Three years ago today I walked
across the stage
of the University of Florida's College of Nursing and received a Bachelor of Science in Nursing degree. I knew I was beginning a career that would define a huge part of who I am... or as it was best said by my card reader, Linda:
You must work in humanities. It is your calling. You innately excel at your job because it is a reflection of who you are: kind, compassionate & incredibly sensitive to the needs of people around you. You have your passion figured out & that is half your life's work. What a remarkable gift!
Albeit challenging, stressful, frustrating & incredibly sad at times, I love my career. There is no other job in the world that offers the opportunity for an infinite amount of learning in a critical, face-paced environment! Where you can touch the lives of every
client
you come in contact with. Some shifts you spend rocking babies all day and other days you critically think so much that your head hurts and your heart is racing from adrenaline as you just saved a life for twelve hours straight. Everyday you make a difference + it. is. awesome.
There are days that I complain (I'm working on this!) about the patient assignments, the ignorance of doctors or the difficulty of parents because my job is incredibly hard but it is these struggles that make me a better nurse. I spent most of the last year feeling so defeated by socialized medicine + the hostile environment created by nursing unions I honestly wanted to quit my career most days. I had lost the passion that used to drive me to get up at 5:00am excited to go to work on my days off to learn something new or stay over for 20 hour shifts or participate in committee work but now that I am back in an exciting environment where I know the babies are receiving the absolute best care possible, the fire has reignited inside me! I absolutely cannot wait to start grad school in June and take on an advanced role in saving lives of the most fragile patient population!!
I experienced my favourite part of the job the other night. I came on shift to a micropreemie who had been too unstable for the new mama to hold. She had just carried this baby with her everywhere for 7 months and I could tell by the look of exhaustion in her eyes and sound of helplessness in her voice that she was feeling the stress that having a baby in the NICU places on parents, especially when touching the baby is
overstimulating
. While the baby had a bunch of lines/tubes/wires/bili lights/breathing machines, the babe had been pretty stable and would be okay if he wasn't under the lights for a few minutes. I carefully secured every wire & tube, swaddled the baby in warmed blankets & put on the smallest hat which was still too big and asked the mama if she wanted to hold her baby. She immediately sprung out of her seat and her eyes filled with tears and said, "That would
mean the world
to me." I fought back tears as I took pictures for them and they repeatedly thanked me. It was a fabulous night at work & their appreciation was a little confirmation for me as to why I do what I do.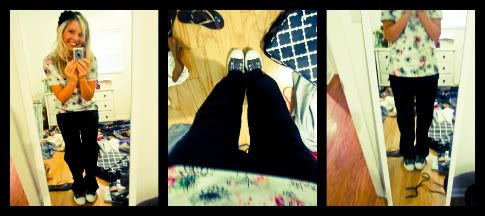 Second part of this story: A few days later, I was logging out at the nurse's station when the charge nurse (who was sitting on the other side) asked me what kind of shoes I wore. I thought I was going to be in trouble because of a snide remark (nurses' are snarky. point blank.) made about the professionalism of my shoes? so I shyly said, "umm... converse..." Much to my relief, she flashed a huge smile and said, "I knew it had to be you! A mom called the other day raving about how much she loved the nurse she had the other night but couldn't remember her name. She said you wore Chuck Taylors, had a really soft voice and smiled a lot!" Melted my heart to hear this... Confirmation #2! I guess I'm not known as "the traveler who always wore a braid", after all but I'll take "the nurse who wore Chuck Taylors, had a really soft voice and smiled a lot!" any day! =)
Super excited for the next
three
thirty years of my career in nursing!!